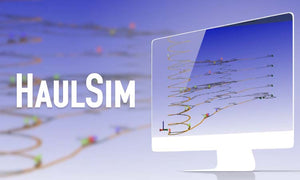 The HAULSIM (Underground) eLearning course provides flexible and convenient training on the core features of RPMGlobal's HAULSIM solution. Participants will learn how to simulate productivity and cost of equipment, through pre-configured workshops designed around real-life scenarios.
The learning outcomes of the course are:
Navigate around the software
Access the product's help
Create and update a mine haulage simulation
Import data into the simulation
Understand the equipment library
How to use dashboards and reports
Analyse the impacts of changes to the simulation
 
 
The HAULSIM (Underground) eLearning course can be accessed from a computer, tablet, or mobile device. The learning environment is interactive and engaging. The course includes approximately 5hrs of content and can be completed without a HAULSIM licence by using the in-course simulations, or by repeating the steps using a HAULSIM licence if available. By purchasing this course, you'll receive access to the online discussion forum for additional learning from the community. When you've finished the course, you can download a certificate of completion for your own record.
Course access 12 months.
Purchasing course access for multiple learners? Please complete purchase and send learner details (name and email) to training@rpmglobal.com for set up.